Gwen Harwood

by

ISBN: 9780195532807

Publication Date: 1994-07-14

In this first study of a female author to be published in Oxford's 'AW' series, Stephanie Trigg has produced a superbly readable and highly provocative account of the work of this central and much-loved Australian poet - the 'Tasmanian mum', as she was so often dismissed, who went on to writesome of this country's outstanding lyrics.
Harwood, Gwendoline Nessie - Australian Dictionary of Biography - this article is a clear overview of Gewn Harwood's life and work, and some of the attitudes and experiences that shaped her writing. Links to further resources at the end of the article.
Gwen Harwood: A biography - Tasmanian Times website. Includes some useful thoughts on the reactions to the Walter Lehman hoax.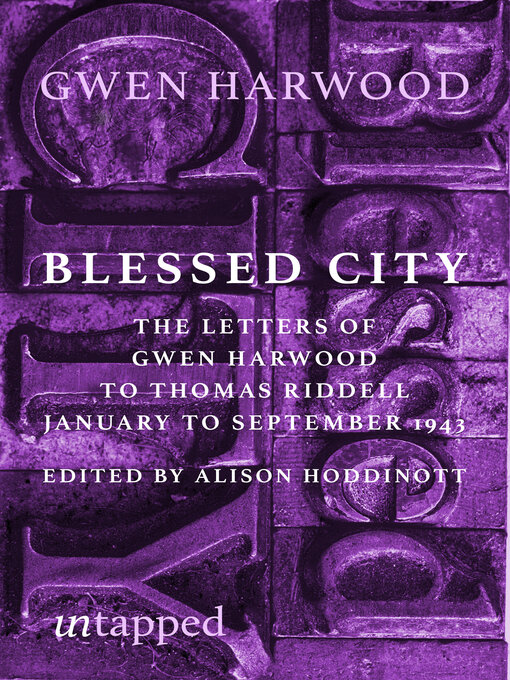 Blessed City - The Letters of Gwen Harwood to Thomas Riddell, January to September 1943 - ebook - Borrow from Libraries Tasmania through OverDrive. Requires current Libraries Tasmania library card.
Breaking free: the many voices of Gwen Harwood - Weekend Australian article with extensive discussion of life and work.
Gwen Harwood: An Introductory Approach by Mário Vítor Bastos, ULICES - University of Lisbon Centre for English Studies. An essay analysing the varoius writings of Gwen Harwood, including particular reference to the influence of the philosopher Ludwig Wittgenstein on her work.
Gwen Harwood - A Search for Meaning by Margie Beck; Religion, Literature and the Arts Project: Conference Proceedings of the Australian International Conference 1995. Excellent discussion of the themes Gwen Harwood explored in her poetry. Includes examples of importance of Wittgenstein's ideas in her writings.